The early failure rate of "factory finished" doors in this area is extremely high. For the best long term value we recommend that all home owners consider having these doors prepared and re-coated as soon after installation as possible. Regular maintenance, approximately every two years will provide the required protection and avoid a more costly complete refinishing job. Regular maintenance or complete refinishing, give us a call we can help.
When the inappropriate failed finish was removed we found additional errors in application. Note the color differences between the panels. (Click on any picture for a larger view)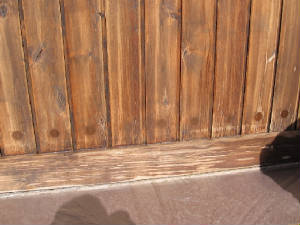 Click on this picture (above) for a close up view of the damage.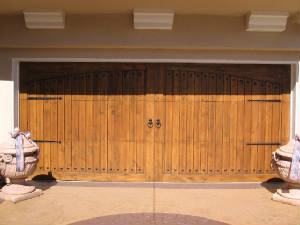 After: This is the finished product. Previous application errors have been addressed and a more effective protective clear coating has been applied.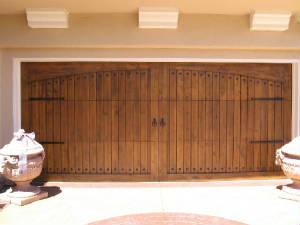 Same door one year later. Proper maintenance will keep this door protected and looking good for years to come.
UV Resistant Varnish clear coatings and paint (no lacquer) many stain colors to choose from.
Expert wood finishing, refinishing, restoration and maintenance since 1987
Serving; CA, Roseville, Sun City, Citrus Heights, Granite Bay, Orangevale, Rocklin, Loomis, Fair Oaks, Carmichael, Sacramento, Arden, South Placer County, and surrounding CA communities since 1987.